Pizza Del Aureo's offers easy online ordering for delivery, takeout or curbside pickup. We offer pizzas, party pizzas, and pizza and wing combos.
We offer daily lunch specials including our Express Lunch pack, 2 slices of pizza, grandwich specials, garlic bread with mozzarella, and one slice options, all with a 20 ounce beverage. Another special includes a grandwich and a garden salad.
Our New York pizza restaurant is passionate about supporting our local students, providing food for award dinners, summer camps, and other events. We also support other local businesses and contribute to fundraisers for sports teams. Our menu has some meatless options available to suite your needs.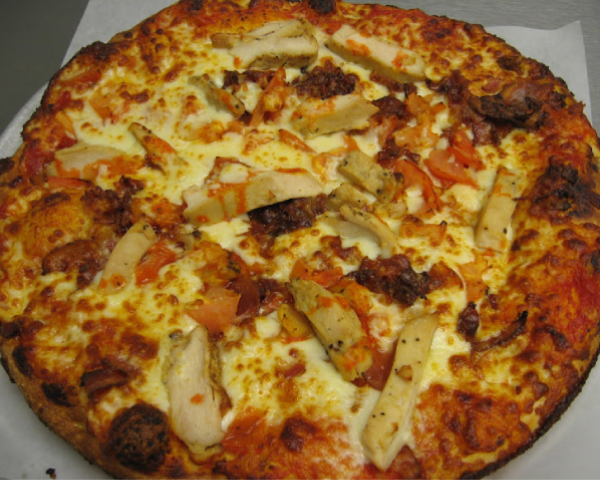 What Our Customers Have to Say
Pizza del Aureo's has received much positive feedback about our food and services. Here's what just a few of our customers had to say:
Best pizza and grandwiches! Friendly service too!!
Cheryl Delventhal
Best pizza around! Will definitely be coming back again and again! 5 stars
Lori Little
Most definitely Kimmy-Sue Tested and Approved! Not just because their food is excellent but the nostagic vibe is SPOT ON! Love it!
Kim Cich
Had probably one of the best gluten free pizzas tonight! So delicious! Our new go to! 5⭐️
Jamie Thompson
Absolutely love it here and have never had a bad experience. Try the breadsticks with cheese!!
Jackie Hall
My wife and I love Del Aureos pizza! We've been known to polish off a full two foot pizza in one meal... just the two of us! I know that's a lot, but we just can't put it down… it's that good.
Del Aureo's has great pizza. A nice family serving good food. The price is right and the food is always consistent. This is my pizza place.
Best place for pizza in town. But the best place for sandwiches is this place their grandwiches are to die for fresh made bread and they are oh so good. Love their garlic bread with moz on the grandwich bread. This is a hidden place and we order from here once a week.